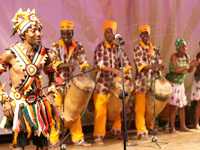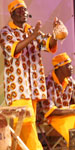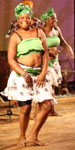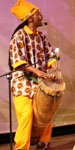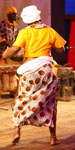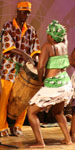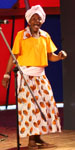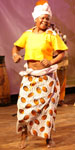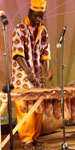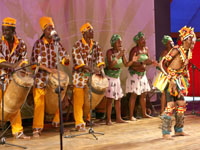 Live Performances
Zuba Ni Moto manage to transport audiences to Africa for the duration of their performances through a captivating illustration of authentic tribal drumming, dance, rituals and ceremonies. It has to be seen to be appreciated, and if seen appreciated it will be. Sensational dancing with gyrations of a frequency that amaze, unbelievable drumming that can cure otherwise untreatable ailments and theatre that is developed as they meet and work with new people!!!
However one of the greatest privileges is the insight into ancient African customs that have been very much a part of life for literally thousands of years, in there own words here are short descriptions of just a few:
(a) INTRODUCTION - BY THE ARTISTIC DIRECTOR
With much more respect to the Drum, song and music:
The role of the above three social components forms traditional media of communication and can not be over emphasised. History has it that the earliest forms of communication amongst pre-literate people were through music. In most African countries particularly Zambia , a drum is regarded as a tool of sending messages to body, soul and mind. Once the three human resources has been associated, you find yourself in a movement called dance.
(b) Titles of dances on the video tape" Indoor performance 20 minutes"
1. NY AKASANGA
This is a social entertainment dance for both men and women practiced by the Luvale and Chokwe of North Western Province. Originally, the dance is believed to have first been introduced into the areas by the migrant miners from the gold and diamond mines in South Africa.
2. NYAU (KASINJA)
The Nyau, alia gule Wamkulu (the great dance) is an all male cheY/a cult featuring a variety of masks which could be divided into the following categories:
Mythological character,
Animal character,
Human characters (citizen/strangers).
Nyau( kasinja) is also puberty ceremony dance of chinamwali (the initiate). Some of the Nyau dancing styles have been adapted for contemporary dance theatre practise.
3. KAWALIE
Performed by men to demonstrate the adulthood of the male initiates (Tundnjis) on the day of graduation. Kawalie shows how to take care of children when they fall sick in the house, what a man should do to show strength to his wife. The Luvale of North Western Zambia practice this famous dance Kawalie meaning (Teacher) Chilombola in(luvale).
4. MANCHANCHA
Yet another initiation dance for girls of Central Province of Zambia. At the graduation day the lady is exposed for everyone to see that she is ready for marriage. During her training she is taught how to take care of the husband and secondly the children.
5. NDENDEULE
Female puberty rite dance from the Eastern Zambia sometimes known as "Nsongwe" or "Mazya" ceremonies for girls and young adult/women among the Chewa and Nsenga" coming of age". In the past years the ceremonies lasted for six months, but this has now been reduced to weeks to allow the girls to attend modern schooling.